Details
Date:
October 18
Time:
06:00 pm - 09:00 pm
Click to Register:
Click to Register
Venue
Zephyr Grill & Bar Livermore
1736 First Street
Livermore, CA, United States, 94550
Join us Tuesday, October 18TH at 6PM as we welcome Cuda Ridge Wines for an executive 5-course winemaker's dinner with a menu created by our executive chef Jesus Martinez!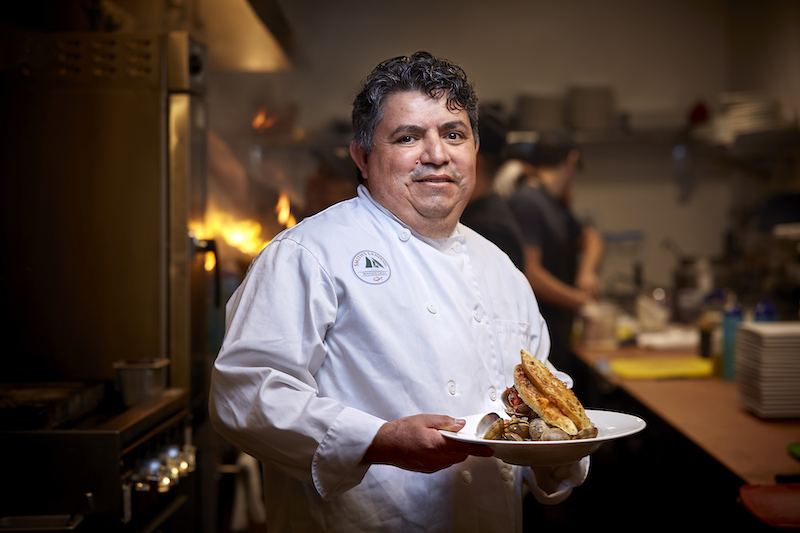 Chef Jesus graduated from culinary school in Mexico and has been in the restaurant industry for 23 years. He also oversees the menu at Zephyr Grill's locations in Livermore and Brentwood. With winemaker's dinners such as these, Chef Jesus says he enjoys the "challenge of finding the flavors and dishes that pair with the wines."
One of the most versatile chefs in the area, Jesus enjoys regularly changing up the menu at all three restaurants he oversees, and owners Lynn and Randy Tei say "he does it all" — Italian cuisine, Chinese, American, French, Asian, and Mexican. For special events like the winemaker's dinners, "he does a fantastic job bringing out the complex wine notes with his dishes," Lynn said. A "foodie" at heart, when Jesus isn't working, he lovingly tends to his herb garden and fruit trees. Over the years, Chef Jesus has collaborated with several local wineries, including Bloomfield Vineyards, Petersen Vineyards, and McGrail Vineyards, to name a few.
Join us Tuesday, October 18TH at 6PM.
$95.00 PER PERSON EXCLUSIVE OF 20% AUTO GRATUITY AND SALES TAX
$19.00 – 20% Auto Gratuity
11.68 – Sales Tax
$125.68 – GRAND TOTAL
First Course –
Halloumi Cheese Salad – Seared Halloumi topped with afennel, cucumber, asparagus, crusty capers, & pomegranate seeds salad with pomegranate molasses dressing.
Paired With 2018 Semillon
Second Course –
Short Ribs – Cocoa rubbed & braised in Cabernet Franc.Served with celery root purée, mustard greens & cabernet sauce.
Paired with 2018 Cabernet Franc
Third Course –
Duck Bolognese – traditional sauce featuring vegetable mirepoix, portobello mushrooms, fresh herbs & spices.Tossed with Ziti noodles.
Paired with 2018 Malbec
Fourth Course –
Filet Mignon – Filled with fresh gorgonzola and served with Luxardo cherry demi sauce. Accompanied by sweet potato mousse & seasonal vegetable Brunoise.
Paired with 2018 Petite Verdot
Fifth Course –
Chocolate Ganache Tart – Pecans, poached pears, vanilla bean ice cream & whipped cream.
Paired with 2020 Carménére